From Wagner to Cage, the music questions architecture
4-11 February, 18-25 March 2023
DATES
Saturday 4th of February at 17:30 the brasses of Vagues Saxophone Quartet will cross the American continent by reinterpreting great classics of modern literature such as West Side Story by Bernstein and Rhapsody in Blue of Gershwin together with more polyhedric compositions such as Four For Tango by Astor Piazzolla and the atmospheres of Brodway the Threepenny Opera by Kurt Weill in the transcription of J. Harle.
The pianist Emanuele Arciuli will be the protagonist of "American Landscapes" on Saturday 11 th of February, a path to discover the contemporary classical, experimental, and jazz American repertoire of the twentieth century. The program is based on the compositions of John Cage, William Duckworth, Margaret Bonds, Barbara Croall, Frederic Rzewski up to the tribute to Thelonious Monk.
The concert on 18th March at 17:30 will host the young ensemble Ichos Percussions engaged in a repertoire of modern age by staging the adventures of Charlot, dealing with the noises of industrial cities in the famous movie directed and interpreted by Charlie Chaplin in 1936 and the execution of some compositions of the revolutionary literature of '900 of Xenakis, Glass, Reich, Kitazume and Cage.
The event will end with a special guest in his premiere to the Quartet. Saturday 25 March at 17:30, the French harper Xavier de Maistre, first harp of Wiener Philarmoniker and currently claimed soloist, will face a long journey through the 47 strings of one of the most fascinating instruments that from Spain of
Albéniz, Granados and De Falla will pass through France of Fauré and Debussy and from Hungary of Liszt to Czech Republic of Smetana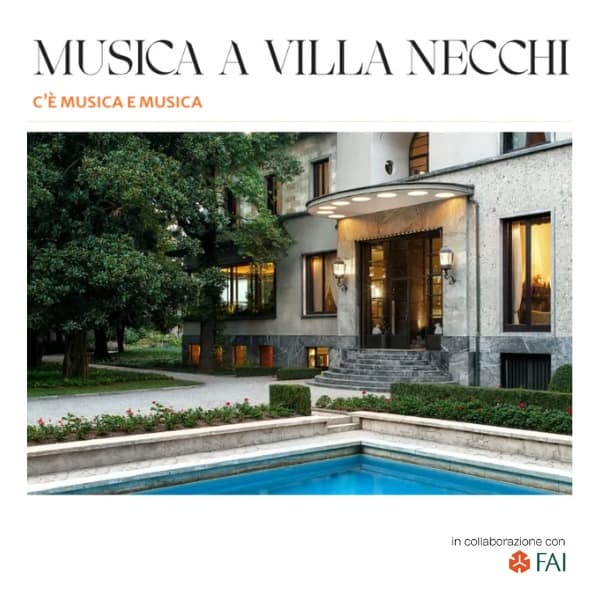 TICKETS
Full ticket: €22
Reduced for associates and FAI members: €18
Young peole (under 30 years old): €8
HOW  TO GET THERE
By tube
MM1 Palestro: 5-minute walk
MM1 San Babila: 10-minute walk
MM3 Montenapoleone: 15-minute walk
By bus
Bus line 54-61-94: San Damiano- Monforte stop
For timetables and news go to http://www.atm-mi.it
CONTACTS
Villa Necchi Campiglio
Mozart Street 14, Milan
Tel +39 0276340121