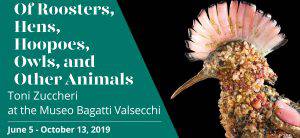 The Bagatti Valsecchi Museum hosts a new exhibit dedicated to multi-colored animals by the glass artist Toni Zuccheri. One-of-a-kind works depicting birds – Zuccheri's favorite animal – will 'inhabit' the museum in via Gesù whose rooms will be transformed into an imaginary aviary thanks to the displays by Lissoni Associati, an official partner of the museum. The exhibit, curated by Rosa Chiesa and Sandro Pezzoli, will be an opportunity to focus on a particular aspect of the production of this very unique artist from Friuli, who looked at the world of nature as his special font of inspiration.
The permanent collection of the Bagatti Valsecchi Museum – where excellent craftsmanship is at home – is flanked by a significant nucleus of birds in which glass encounters heterogenous materials giving life in this way to hoopoes, roosters, and ducks: one-of-a-kind works in which nature is exalted by the very personal choice of expressive means. A multi-faceted work that of the artist who dedicated his life to glass, always experimenting with new techniques and often using various materials, such as wood, dry leaves, stones, bronze, corn cobs, and recycled supports, chosen for the imprint that nature put on them, for their material energy, a vehicle of personal and collective memories.
The installation, at the museum until the 13th of October, is realized with the support of the Region of Lombardy, Cariplo Foundation, and – for the display – Lissoni Associati. Enrico Bersellini and Banca Generali have supported the exhibit, while FLOS, Glas Italia and Max & Kitchen have contributed as technical sponsors.
THE VOLUME
For the exhibit, Marsilio editore has published the volume TONI ZUCCHERI. Poeta della natura e del vetro in Italian, curated by Rosa Chiesa and Sandro Pezzoli. Information is available in English in the museum.
INFORMATION
Of roosters and hens, hoopoes, owls and other animals. Toni Zuccheri at the Bagatti Valsecchi Museum
Bagatti Valsecchi Museum, via Gesù 5 – Milan
June 5 – October 13, 2019
Exhibit curated by Rosa Chiesa and Sandro Pezzoli
Display created by Piero Lissoni with Gianni Fiore, Lissoni Associati
Open Tuesday to Sunday, 1 – 5:45 PM (closed Mondays and August 15)
Look! Look! Look!
SPECIAL OPPORTUNITY FOR FAMILIES (in Italian)
Cork, wood, feathers and buttons
In the steps of Toni Zuccheri, from recycled objects to birds
Workshop in Italian for kids from 5 to 12 years of age
Saturday, June 8 and September 14, 3:30 PM
Kids €7.00, accompanying adults €10.00
Reservations are required: prenotazioni@museobagattivalsecchi.org / 02 7600 6132
The exhibit Of Roosters and hens, hoopoes, owls and other animals. Toni Zuccheri at the Bagatti Valsecchi Museum is an opportunity even for the whole family to discover the special works of Toni Zuccheri and to visit the museum, again, where the animals of the Bagati Valsecchi 'dialogue' with those of the artist from Friuli.
After the visit, kids will have the possibility to create their own little animal using various materials, such as wood, stones, buttons, corks, glass and other kinds of recycled things. Following in the footsteps of Zuccheri, a master at mixing noble and everyday materials, kids will experiment with glue, cork, feathers and stones giving life to little birds and other animals.
Kids are invited to bring fabric, clean used containers and paper to be recycled (ex., brochures, candy wrappers, etc.) from home to give them a new life.
The activity – in Italian – is suitable for kids from 5 to 11 years of age