>> INSTALLATION EXTENDED UNTIL 20 APRIL 2019 <<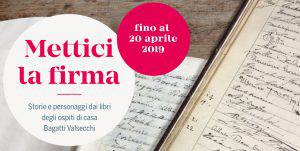 Sign here, please is an interactive digital installation that was inspired by the signatures left by visitors in the guest books of the Bagatti Valsecchi house. Thanks to projected images and films, today's visitors can 'meet' some of the people who, since 1886, have visited the Bagatti Valsecchi home in via Gesù.
If behind every signature there is a person, behind every person there is a story. Recounting their stories through sound and images on the walls designed by Lissoni Associati in the museum's exhibit room is an installation realized by Muse Factory of Projects. Visitors themselves will decide whom to 'meet' choosing from among a selection of very different people who animate the images and videos projected on the walls of the room.
The Bagatti Valsecchi brothers were happy to welcome whoever wanted to admire their home, and so it became a "must-see" during a trip to Milan for many intellectuals, members of an international high society, and emblematic people at the end of the 19th and the beginning of the 20th centuries.
The museum installation open until the 10th of March was realized with the support of the Region of Lombardy and the Cariplo Foundation, as well as of Lissoni Associati for the design of the displays. Altemasi, a prestigious vineyard of Trentodoc, which inaugurated its partnership with the museum this year, also supported the initiative together with Banca Generali. Technical sponsors are: Alpi, Aurora, Glas Italia, Leica Camera Italia, Living Divani and Max&Kitchen Catering.
Curious visitors wishing to take up the challenge should return to the museum every month. In the rooms of the museum, new objects that hint of different famous visitors to the house will help them guess who is meant, then they can compile a card with their answer and their own information. Winners will be extracted anonymously from those answering correctly, and will be contacted for their prizes and free tickets.
The weekend of the 9th-10th of February will be dedicated to souvenir photos. Thanks to the support of Leica Camera Italia, visitors will be able to be photographed as if a gentleman or gentlewoman at the end of the 19th century, and get their photo as a gift.
The installation is the first step in a larger process of indexing and digitalizing the three Bagatti Valsecchi guest books. At the end of the project, it will be possible for anyone to look on our website for the names and dates of whoever visited the artistic Bagatti Valsecchi home from all over the world.
INFORMATION
Sign here, please. People and their stories: the Bagatti Valsecchi guest books
Bagatti Valsecchi Museum, via Gesù 5 – Milan, Italy
November 14, 2018 – March 10, 2019
Visiting the installation is included in the museum entrance fee
A project of Lucia Pini, Bagatti Valsecchi Museum
Direction by Francesca Molteni with Claudia Adragna, Muse Factory of Projects
Product of the Bagatti Valsecchi Museum
Exhibit design by Piero Lissoni with Gianni Fiore, Lissoni Associati
English translations by Starleen K. Meyer, Bagatti Valsecchi Museum