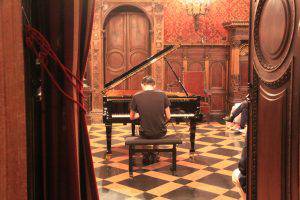 Once again music returns to the Bagatti Valsecchi Museum. After the popular "Thursdays at the Museum" series organized in 2016, the museum's collaboration with Milan's Associazione Wagneriana and the Giuseppe Verdi Conservatory are even stronger. These associations will bring classical music to the museum's salons in a program entitled, "Wagner, Music and Words," beginning the 9th of November with a piano duo (Massimiliano Baggio and Corrado Greco) during an evening dedicated to the repertoire of Brahms and Wagner. Some of the great classics will be interpreted: Symphony n. 1 in D minor op. 68, Chorus of the Pilgrims, and the Ouverture from Tannhäuser.
In the subsequent evening, conservatory teachers will perform in the interpretation of pieces drawn from the volume A Visit with Beethoven by Wagner. The actor Marco Pagani will read selections from Wagner's work, accompanied by violin, violoncello, pianoforte for four hands and soprano and tenor singors.
The cycle will conclude with "Wagner and Baudelaire," in which works by the French poet and the German composer will mutually enhance each other. Some selections from the writings of Charles Baudelaire about Richard Wagner will be read, while some poems from Les fleurs du mal set to music by Duparc and Debussy will be played.
PROGRAM

November 9, 8 PM
Wagner and Brahms
Symphony n. 1 in D minor op. 68, J. Brahms
Chorus of the Pilgrims, Overture from Tannhäuser, R. Wagner
Piano duo with Corrado Greco and Massimiliano Baggio
November 16, 8 PM
A visit with Beethoven, by Richard Wagner
Music by Wagner and Beethoven executed by students of Milan's conservatory
Soprano, tenor, violin, violoncello, pianoforte
Marco Pagani, actor;
Giovanna Polacco, violin;
Stefania Mormone, pianoforte
November 23, 8 PM
Between Wagner and Baudelaire
Music of E. Chausson, C. Debussy, E. Duparc, G. Fauré, and R. Wagner; writings of C. Baudelaire
Lorna Windsor and Stelia Doz, sopranos
Corrado Greco and Stefania Mormone, pianoforte
Antonino Tagliareni, actor
The museum will open at 7 PM on the Thursdays of the concerts to allow those attending the concerts to visit it before the concerts begin at 8 PM.
Guided visit (in Italian) 7 PM
Event 8 PM
Museum entrance fee: 9.00 euro
Entrance fee for the Friends of the Bagatti Valsecchi Museum: 6.00 euro
Reservations are encouraged, seating is limited:
T +39 02 7600 6132
rsvp@museobagattivalsecchi.org
With the contribution of: the Region of Lombardy and the Cariplo Foundation
In collaboration with: the Associazione Wagneriana of Milano and the "G Verdi" Conservatory of Milan
Particular thanks to: Furcht and the Friends of the Bagatti Valsecchi Museum
Media Partner: Arts Life and The Art Post Blog