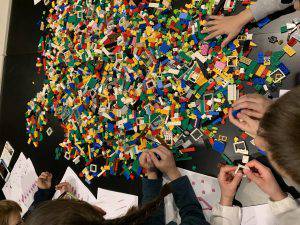 After the program's success in spring, here's another opportunity for families: a fall workshop with LEGO® at the Bagatti Valsecchi Museum.
Kids and parents follow a special guided visit just for them focalized on the theme of constructing, after which they can participate together in a workshop to realize buildings, objects and accessories inspired by the Renaissance collections in the barons Bagatti Valsecchi family home.
Creativity and fun are the essential ingredients for realizing the constructions, but remember that the little bricks can't be taken away!  Just like the objects displayed in the museum, they, too, stay so that they can be used by other visitors.
Don't worry! There'll be lots of opportunities to snap photos to immortalize the creations of the young architects.
For the workshops, it will also be possible to see reproductions made with the mythical LEGO® of some of the most important objects in the museum: the skull clock, a crossbow, and one of the house's canopy beds.
Workshop and guided visit are in Italian, but the LEGO® fun is universal!
Saturday, November 9, 2019, 3:30 PM
Guided visit + workshop, about 90 minutes
Children €7.00 / Accompanying adult: €10.00
Other reductions or membership cards are not recognized for this special event (ex., Musei Lombardia, Circuit of Historic House Museums, …)
Places are limited; reservations are requested: prenotazioni@museobagattivalsecchi.org // 02 7600 6132